Back to Listing
Sherena M
Posted on: 12/06/2019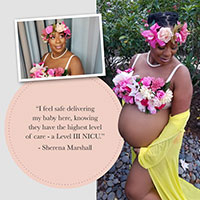 Sherena M is a current antepartum patient at Northwest Medical Center. While having an ultrasound, it became apparent that her baby was positioned transverse and that the umbilical cord was presented downward.
To be on the safe side, her doctor decided to admit her and place her on complete bedrest, in an effort to prevent early labor.
"Northwest has made a huge leap in the quality of Neonatal Care. Their Level III NICU allows us to fully care for our high-risk patients, prevents us from having to transfer the babies out and allows the mothers to stay with their newborn babies the entire time," said Tim Puckett, MD, Obstetrician and Gynecologist of Royal Palm OB/GYN.
Going on week 4, Sherena is adjusting to being on complete bedrest and not being with her family every day. She has repeatedly praised the staff from nursing to food and nutrition.
"The nursing staff and the director of the unit have provided phenomenal around the clock service throughout my stay. One of the nurses even brought me arts & crafts to help keep me busy. And the food services team is excellent- they make sure I have everything I need and bring me extra snacks for night time. Everyone has gone out of their way to get to know me on a personal level too, which has been really nice."
One of her best memories here has been when her best friend and her mom decided to cheer her up with a maternity photoshoot at the hospital.
"They came to the hospital, did my hair and make-up and set the entire room up for a professional photoshoot. I was anxious and nervous, because I didn't have anything to wear, but my dad dropped off a bag for me that morning with a handmade flower top and headband in it, which my little sister made. This really made my day. I cried I was so happy. I was even able to go outside for a few minutes and get some fresh air, which was much appreciated."
With just a few more weeks to go, Sherena's due date is right around the corner.
"I am counting down the days… just four more weeks to go. I can't wait to meet my little girl and introduce to her to everyone!"
To learn more about our Women's & Children's services, visit https://northwestmed.com/specialties/labor-and-delivery/.
Posted on: 12/06/2019